Memorable sign to Yugra discoverers (2000-03)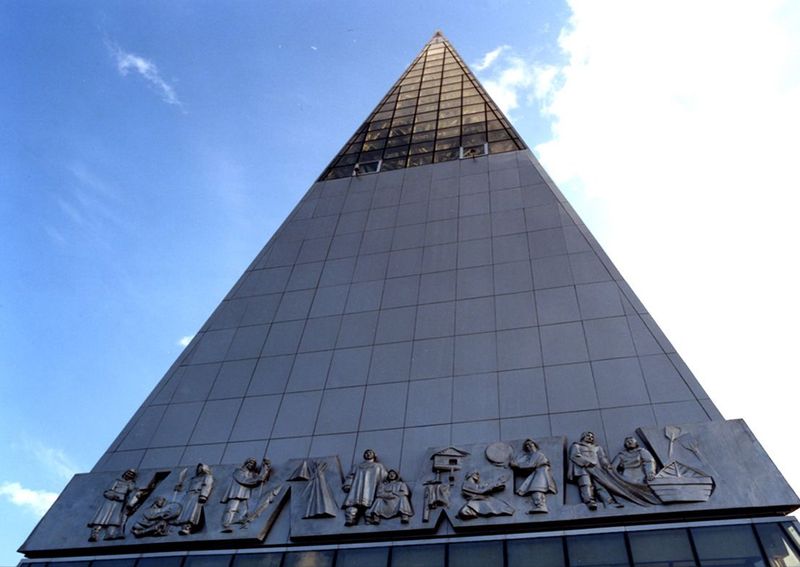 Project: 2000/2002
Realization: 2000/2003
General director: Saprichian K.V.
Project manager: Saprichian K.V.
Architects: Asadov A.R., Petushkov P.G., Terehov S.V., Peida S.V.
Main designer: Kancheli N.V.
Sculptural works: Saprichian K.V., Ljubimov N.N.

Parameters:
Site area- 1.2 hectares.
Building area - 680 m2.
General area - 1430 m2.
Construction height - 62 m.

The memorable mark in the form of three-edged pyramid is located on Khanty-Mansiysk outskirts, in the area of Samarovo settlement on the mountain with an absolute mark 104,48 m. The pyramid height is 62 m. Internal space has three levels. At the bottom level there is a restaurant on 50 places. On the second level there is a museum with the marks from 5.700 up to 27.200. On a mark 27.200 the glazed observing platform is build. All levels are united by the lift shaft. From the mark 5.100 up to 8.200, on all pyramid facades there is the monumental high relief devoted to Yugra discoverers. At night polychromatic illumination in a light change mode program is provided.